Fruitful Partnerships Born in the Desert: Anviz Scores Big at ISC West
After a busy week in Las Vegas, Anviz representatives have finally returned back to the office. ISC West 2014 has been considered a great success by all accounts. Anviz had a record number of exhibition attendees visit the booth. Furthermore, great interest was generated which is already yielding favorable results. We would like to thank everyone who stopped by the Anviz booth. It was fantastic to meet all of you who took the time to speak with us.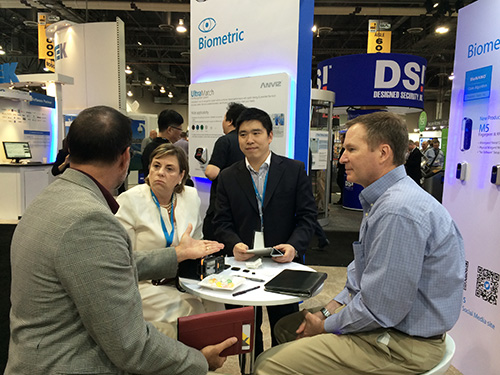 Coming into Las Vegas, Anviz made it a priority to ensure that people left town knowing as much about Anviz as possible. Making this easier, ISC West is always a fantastic venue which allows Anviz to showcase its latest and best products for the North and Central American markets. Las Vegas provides the perfect backdrop for Anviz to demonstrate the cutting-edge innovation that is helping us make waves in the North American market. Per usual, the newest gadgets Anviz has to offer garnered the greatest interest. UltraMatch and Facepass Pro were a point of interest for many of the visitors to our booth. The access control device is equipped with single-iris recognition, OLED screen, and built-in webserver. The UltraMatch can store 50,000 records. Each registration can be achieved within three seconds. During all three days of the show, a line-up began to form in order to try UltraMatch.

The award-winning OA1000 also featured prominently at ISCWest. Many of the visitors were interested in hearing about one of the main features of the OA1000, the BioNano algorithm. With this algorithm, subject verification is extremely accurate and completed in less than 1 second. It is equipped with the most popular communication modes in market such as TCP/IP, RS232/485, USB Host. The optional Wifi and GPRS wireless communication allows the device to remain fully-functioning in environments without fast internet access. It supports multiple identification methods such as fingerprint, card, fingerprint + card, ID + fingerprint, ID + password, card + password.
Anviz team members are already excited for the next round of exhibitions starting at IFSEC South Africa 2014 in Johannesburg. We look forward to sharing our experiences and expertise with you all. If you have any further questions or comments please visit www.anviz.com.