ANVIZ's Introduced to High-level Security through HID Global Integration
Anviz, a leading global provider of intelligent security technology and solution, is pleased to announce that Anviz
biometric terminals can now be paired with HID Global to improve the security level of the biometric devices.
The unification dates back to 2013 when Anviz standalone Iris Recognition System UltraMatch integrated the
HID module. Overall this makes the Iris recognition more stable for higher level security demands. In the
meanwhile, the latest Anviz product released, C2 Pro, also integrates HID's iCLASSSE technology which is
also used by intelligent mobile terminals to open and get the authorized permission of access and mobile payments.
"Cooperation with HID Global helps us upgrade the performance of our products, and to win an enlarging
security market" says Felix Fu, chairman of Anviz Global Biometric department. The competitive biometric t
echnology integration into HID technology makes the solution more suitable for the higher level of customers'
demands. Anviz continues to cooperate with third-party partners, and have established strategic partnership
agreements with leading companies such as HID Global.
About HID Global
HID Global is the trusted leader in products, services and solutions related to the creation, management, and
use of secure identities for millions of customers worldwide. Recognized for robust quality, innovative designs
and industry leadership, HID Global is focused on creating customer value and is the supplier of choice for OEMs,
integrators, and developers serving a varietyof markets that include physical access control; IT security, including
strong authentication/credential management; card personalization; visitor management; government ID; and
identification technologies for a wide range of applications. HID Global is an ASSA ABLOY Group brand.
About Anviz
Founded in 2001, Anviz Global is a leading provider of intelligent security products and integrated solutions.
Anviz is at the forefront of innovation in biometrics, RFID, and surveillance technologies.By continuously
innovating our core technology, we are committed to providing clients with the best-quality products along
with a full range of intelligent security solutions. Through these agreements with top-companies, we are
offering customers with one-stop solutions for intelligent security.
About C2 Pro: Professional Fingerprint & Card Terminal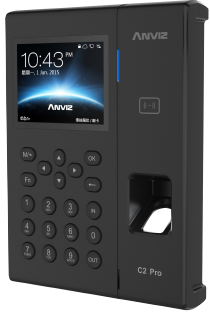 ▪ Linux platform to provide a safe and stable performance
▪ Comparison time in less than 0.5s
▪ Embedded fingerprint templates to the IC card to provide a more safety comparison on 1:1
▪ AFOS 408 the latest fingerprint reader, touch on activation infrared, optical imaging technology
▪ TCP/IP & WiFi are provided to satisfy different needs
▪ Provide 1 relay for belling and connecting to Access Control system
▪ RS232 interface can be connected to a Time & Attendance Control system
▪ Support Anviz RFID new version and HID RFID module
Please feel free to contact us for further details:
Tool-Free: 1-855-268-4948(ANVIZ4U)
email: sales@anviz.com
website: www.anviz.com