 Security is crucial to any office or facility, every building needs a way to keep the space safe, and most organizations also need to restrict access to certain areas. Anviz is the first access control company to make use of biometrics-based, RFID cards, mobile access technology and specialized hardware to achieve space safety goals. The powerful security features with a convenient and flexible system provide office efficiency for enterprises small and large.
More and more companies are deciding to replace time sheets and time clocks with automated time recording systems- and benefit from accurate labor costs and employee satisfaction. Automated time and attendance solutions can reduce your manual — and error-prone — data entry and improve accuracy.
After evaluating several systems based on a number of factors, including cost, ease of use, integration options, and valuable features, we launched Anviz CrossChex Standard and CrossChex Cloud.
Anviz Time Attendance tracking solution provides a simple way to streamline time and attendance and a smoother way to schedule. Managers and employees both set schedules and check the time actually spent working through mobile apps or web-based software.
Manage Workplace with Versatile & Accurate Identification Methods
Advanced BioNANO ® algorithm allows for liveness detection with the best combination of speed and accuracy. Enjoy versatile punching options including face recognition, fingerprint scanner, RFID reader and personal PIN.
Face Recognition

Fingerprint Scanner

RFID Reader

Personal PIN
A Comprehensive Software Designed for Time Attendance and Access Control Streamlined Management

All time & attendance data will be stored locally.

Automatically download & generate attendance record.

A various types of reports enables you to customize your report to show information relevant to your business needs.

Smart shift scheduling makes it easier and faster to create day shift and night shift that works for everyone.
New Cloud-based Time & Attendance Management Solution Works for Any Business

Access your time and attendance data from any internet connected device or download the mobile app for flexible deployment.

Precisely track vacation, overtime, and make-up receive and approve time off requests while sending a notice to the employee.

CrossChex Cloud App makes it easy for employees remote punch and track their own attendance records.

Configure different levels of administration access for administrators.

Open APIs allows to synchronize data with existing systems that you use (Payroll, HR, ERP, etc.) with ease.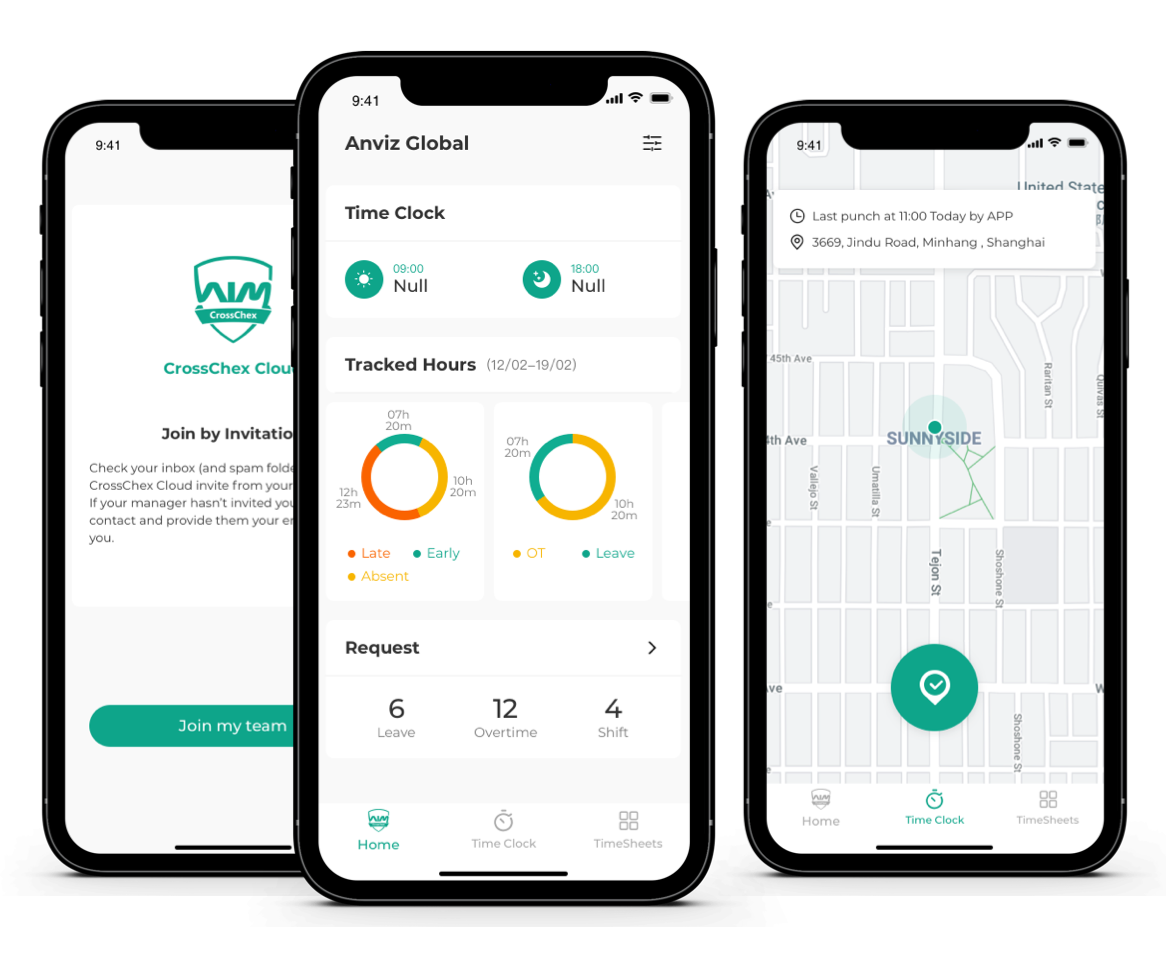 CrossChex Cloud APP
Mobile Punching and Tracking
New work scenarios with work from home, shared desks, coworking as well as time- and location-independent work influence established structures and demand new flexible and transparent processes.
Despite a - sometimes enforced - physical distance, employers must ensure digital proximity. CrossChex Cloud APP maps these new working models in a reliable and user-friendly way. Integrate Your Favorite Software with CrossChex
CrossChex integrates seamlessly with payroll, ERP, and HRM systems to save you time and provide the insights you need in one place. Any solution can be built using our open cloud API. Smarter integration that helps you run a better team by streamlining scheduling, elevating task execution, and making operations hum.
Saves you time and money + provide real-time insight into business performance.

Streamline workplace operations and HR workflows.

Easily track employee hours, prep for payroll, and get control of your labor costs.
In 15 years, 300,000+ businesses, schools and governments teams harness the power of Hassle-Free workforce management with our Time Attendace Solution.
Business Buildings

Manufacturing Facilities

Education

Medical Services

Hospitalities

Communities "We evaluated different biometric-centric authentication solutions and selected the CrossChex because it offers a complete solution, including both adaptable software and smart face recognition hardware"
— Wilfried Diebel, Head of the Dürr IT team