Anviz Global Provides safety Solutions For Khivraj Groups
Anviz has provided Khivraj Groups in Chennai, India a professional access control and time attendance
system. The fully-customized setup puts together Anviz's biometric-based terminals to meet the needs
of Khivraj Groups.
Installation site:
The devices were installed in the whole sales outlets of Khivraj Groups in Chennai.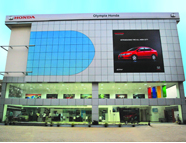 Background vs. Requirements:
Founded in 1961, Khivraj Group is countries leading Automobile Dealers and one of the respected business
group. Charting a steady growth path of expansion and diversification, it currently employs a total workforce
of close to 1,000 and comprises around 10 companies.
Khivraj Groups has 20 branches in Chennai. With the sales outlets receiving plenty of guests every day keen
to purchase their automobile, efficiency with security is a
major priority.
Solutions vs. Benefits:
Hardware: EP300 + T60
Software: AIM Software
Anviz fingerprint terminals EP300 and T60 are installed in the sales outlets to monitor employees' time
attendance for wheels showrooms. The efficient devices are able to have clear output in reports and
maintained easily over all sales outlets for the efficient management with a paperless office.
Most important of all, the solid fingerprint proof of employees helps prevent threats from the unauthorized
staff, it's important to restrain certain areas, as important showrooms and administration offices.

Now, the devices just scan their fingers, recognize them and allow or deny the entry to the different areas
of the sales outlets.

The installation of this system has been initiated for the rest of the branches of the Khivraj Groups in India.

Product introduction: