Only Anviz T60+ Accept McDonald`s Challenge
Outstanding Projects Backed up by POWERFUL R&D RESOURCES and REAL MARKET PROTECTION
Installation Site: All Uruguay 23 McDonald`s Restaurant JUST as the beginning!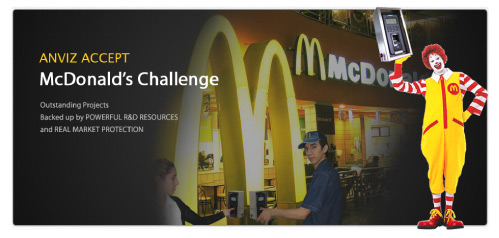 Project Brief Background:
After one whole year project strict challenge, only Anviz Accept It in 100% success again! McDonald company, choose Anviz T60+ terminal to be used in all 23 McDonald`s Uruguay Restaurant as the beginning from May 2011 for all employees Time and Attendance using. This is a Pilot Project, will be expanded to all of the other South American countries in the near future!
T60+in McDonald works fine ! Feedbacks from the McDonald South American Project Manager Gonzalo Amaya
Project Requirements VS Solutions:
Strict Requirements:
(1) Friendly Biometric Technology
(2) High transit McDonald restaurant, need High quality and Reliable hardware well protected
(3) Special Firmware Requirements should be meet for Time and Attendance
(4) Completely software integration with McDonald unique T&A schedule
(5) External project hardware integration
Anviz State-of-art Solution for McDonald:
(1) Anviz Advanced BioNANO Algorithm with Advanced Full sealed, Waterproof and Dustproof AFOS Fingerprint Sensor.
(2) Anviz Professional Time and Attendance ,Access Control system T60+ with Customized SS (Stainless Steel)case and Plastic Cover to avoid splash.
(3) Anviz Customized firmware available within one week, powered by more than 30 Engineers Anviz R&Dteam.
(4) Anviz Project Partner AVICARD adapted existing McDonald's software system with our Terminals T60+ with Anviz Technical support.
(5) Mini UPS, Cables Connection, External Check in and Check out button... perfectly meet McDonald's requirements for indoor using.
Anviz provide entire solution with our partners to win such these projects all the time! Grow up together!
Outstanding Projects
Backed up by POWERFUL R&D RESOURCES and REAL MARKET PROTECTION