Professional access control system for Futurisk Insurance
Anviz has provided Futurisk Insurance in India with an integrated and fully-customized professional access control and time attendance system. The system blends perfectly the Anviz T60 and T5 pro biometric-based terminals to meet the needs of the company.
Installation site:
The systems were installed in several sales outlets of Futurisk Insurance in India.
Background vs. Requirements:
Futurisk is one of the top five insurance broking companies in India with presence in cities as Chennai, Bangalore, Mumbai, Delhi and, Hyderabad. Numerous of their sales outlets
receive plenty of customers every day for insurance consulting and business services. This daily dynamic generates security hazards especially when unauthorized people enter
into the facilities through the main entrances and get into only-staff areas. With a large number of employees and customers in the installations every day, security is a major priority.
Solutions vs Benefits:
Hardware: T60 + T5 Pro
Software: AIM Crosschex

Installed in the diverse sales locations of Futurisk Insurance, Anviz designed an access control and time attendance system to meet the task. Now Futurisk Insurance is protected by
8 sets of Anviz T60 and T5 Pro systems.
The system helps Futurisk Insurance monitor employees' daily action inside and outside of the office easily and to output the clear data into report efficiently. Identity issues were
eliminated by a fingerprint proof device that allows access only to authorized employees. The T60 together with the T5 Pro help monitor the card eligibility in the case the fingerprint
cannot be readed and to add higher security level demands. At last, Futurisk Insurance established controlled facilities providing a safety environment therefore a better performance
among its employees.

Product introduction: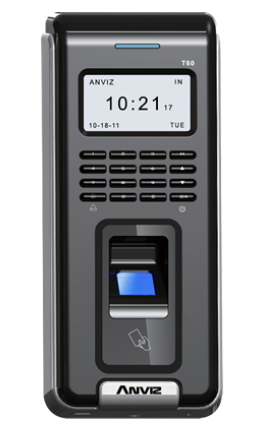 T60 Fingerprint Access Control
• Combine 2-in-1 function for time attendance and access control
• BioNano core fingerprint algorithm
• Stand-alone without being connected with computer
• Identification method: FP,ID+PW,ID+FP,ID+Card,Card
• USB plug and play, RS485 and TCP/IP, Wiegand
• Direct lock control, alarm output and doorbell output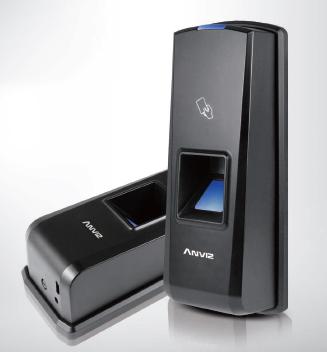 T5 Pro Fingerprint & RFID Access Control
• Compact in design to installed on doorframe easily
• BioNano core fingerprint algorithm
• Identification method: fingerprint, card, fingerprint + card
• RFID , Mifare card module (compatible with industrial standard)
• TCP/IP and RS485, Mini USB port, Wiegand26 output
• Relay output driver the electric lock directly.