Successful businesses with implementation of Anviz T50
English:Creatica de software,implemented a complete solution for the company AccionCorp in Costa Rica, the solution involved the installation of more than 100PCS T50 throughout CostaRica as the trail, further more than additional 500 PCS, and connect these devices via a public IP to a software developed by Creatica. This system integrates directly with these devices through the SDK provided by Anviz and the technical support. CES is the name of the application and that manages to complement the human resource of a company. Attendance control using the T50, payroll, vacation, disability, etc. AccionCorp is a franchise of sporting goods stores representing brands such as Nike, Puma, Speedo, Converse, etc. It has over 400 employees and with CES+T50 manages the human resources in a centralized way, but in over 50 locations across the country, shops, malls and distribution.
Negocios exitosos con aplicación del T50
Español: Nuestra empresa implementó un solución completa para la empresa AccionCorp en Costa Rica, dicha solución implicaba la instalación de más de 100 (unidades de) T50 en todo Costa Rica, aún más de otros 500 PCS,y conectar estos dispositivos por medio de Ip publicas a un sistema desarrollado por nuestra empresa. Este sistema se integra directamente con estos dispositivos gracias al SDK brindado por Anviz. CES es el nombre de nuestra aplicación y esta administra complemente el recurso humano de una empresa. Control de asistencia usando los T50, además de pago de nómina, vacaciones, incapacidades, etc (entre otros). AccionCorp es una cadena de tiendas de artículos deportivos con la representación de marcas reconocidas como Nike, Puma, Speedo, Converse, etc (entre otros). Cuenta con más de 400 empleados y de esta forma se administra este recurso humano en una forma centralizada pero en más de 50 puntos en todo el país, tiendas, malls y distribución.

Integration/Integración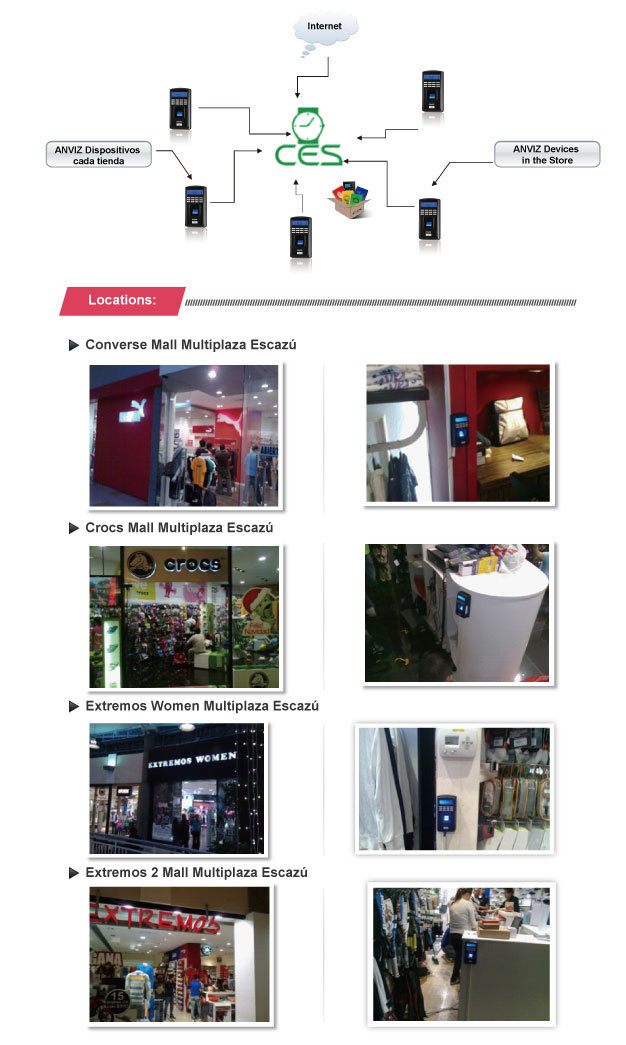 Hope more and more Anviz Clients , like System Integrator , Software developer can get more projects with Anviz market protect and technical support!

Read More :
Anviz T50
Success Stories
Case Studies

About Cre@Tica:Teléfonos: 2560-5960, 2263-4223.
Página web: www.creatica.co.cr
Cre@Tica, Todos los Derechos Reservados. 2011