Anviz Showcases Touchless Access Control and Cloud-based Time Management Solutions at Intersec 2022 in Dubai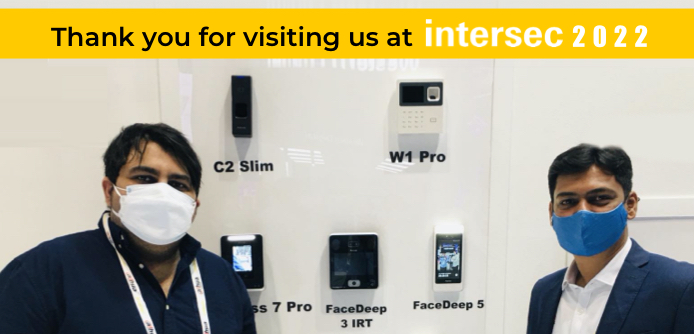 Intersec is the leading global emergency services, security and safety event bringing together over 500 speakers and 30,000 attendees to share solutions, foster connections and learn about emerging safety and security trends.
Intersec 2022 was hosted during the COVID-19 pandemic, with the Middle East and Africa access control market size projected to grow increase by a $ 9.10 billion by 2024. Increasing terrorist activities crime rates and government initiatives are the key drivers who are making the access control market grow rapidly. Compliances for security and policies by the government and regulatory bodies resulted in investments in safety by the companies and organizations. The increasing adoption of mobility-based solutions is expected to open new avenues for market growth. In business organizations, these systems help the administration to manage access and the workforce.
Anviz joined Intersec with partners (booth S1-B09/SA-G12/S1-J26), and showcases touchless solutions Face Recognition, FaceDeep 3, FaceDeep 5, mobile access and new cloud-based time management software CrossChex Cloud.
We would like to take the opportunity to thank all our business partners. Thanks to ID VISION, M.E.D.C. and ScreenCheck Middle East, the official Anviz distributors and solution providers in the UAE and Africa.
"With the demand for access control systems increasing across UAE, there is no better time for the world leader to provide the highest level of security for commercial facilities," said Michael Qiu, CEO of Anviz Global. Anviz is proud to have participated in Intersec 2022 and honored to share our knowledge and solutions to help organizations stay safe.
Please do not hesitate to contact us if you have any questions or feedback that you would like to share. For further information about Anviz's latest products, solutions and technologies, please visit www.anviz.com.
We sincerely appreciate your interest in Anviz products and solutions. We look forward to working together and contributing to the future success of your business.

Contact:
Lulu Yin
Anviz Global
32920 Alvarado-Niles Rd Ste 220
Union City, CA 94587
USA: +1-855-268-4948
Email: info@anviz.com