Focused on the Combination of Core Technology and User Experience | Anviz Succeeded at SICUR 2022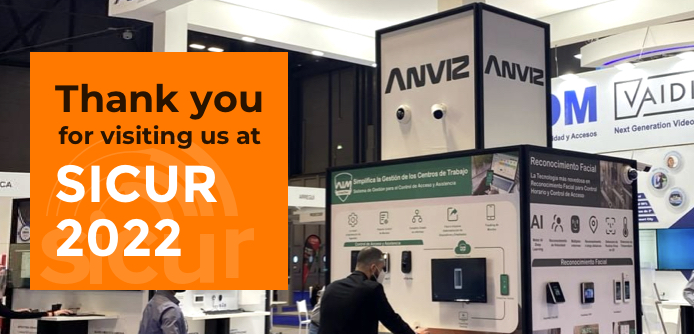 Anviz, a leading provider of converged intelligent security solutions, joined SICUR 2022 to showcase its latest, core technological breakthroughs and products. As Spain's largest security event, SICUR 2022 provides the best opportunity for us to showcase our leading products and solutions to meet the needs and demands of every environment Iberian Market and deliver an interactive on-stand experience.
New Surveillance Management Solution – IntelliSight
In the product area of the exhibition, we demonstrated the latest smart surveillance management platform
—
IntelliSight, a smart cloud-based end-to-end solution that integrates the latest edge AI camera, smart storage, Strong VMS, and Mobile management app. It is with an AWS local cloud server in different regions of the world in order to strictly become GDPR compliant.
What's more, the 360
°
panoramic view outdoor Fisheye camera, the 4K explosion-protected outdoor dome camera, and the High-performance EU LPR camera displayed at the exhibition are all developed in-house with high quality, appealing design, and complete certifications, suitable for diverse application scenarios.
As an important part of the solution, the new scene-customizable VMS platform integrated with outstanding applications is based on the comprehensive extraction of customer demands and in-depth analysis of the product application scene.
New Touchless Access Control Solution – FaceDeep 3 QR
In addition to displaying full IntelliSight series products, Anviz also presented the Ultimate Facial Recognition Access Control solution, FaceDeep series. It is worth mentioning that the new FaceDeep 3 QR Version specialized for European users, supported the demand of European Union's COVID-19 Green Pass, as it has been adhering to its principle "demand comes from scene, design based on application".
New Cloud-based Time Management Solution – CrossChex Cloud
Meanwhile, the latest version of CrossChex Cloud software, cloud-based time and attendance solution impressed users with its customized services and convenient mobile application.
The CrossChex Solution
is
centered around the core of "Improve information security and management efficiency". The solution employs time and attendance and access control function and supports all Anviz Biometric terminals to consistently create value for customers. In our booth, we unlocked the doors and clocked in with a smartphone to present its mobile access control function.
In t
h
e end, we will continue to get insights and understanding of customer scenarios and requirements, and will make every effort to fully coordinate its technological innovation, top-level designs, business architectures, operation services, and other capabilities, to improve our key competitiveness in intelligent security.

Please do not hesitate to contact us if you have any questions or feedback that you would like to share. For further information about Anviz's latest products, solutions and technologies, please visit www.anviz.com.


Contact:
Lulu Yin
Anviz Global
32920 Alvarado-Niles Rd Ste 220
Union City, CA 94587
USA: +1-855-268-4948
Email: info@anviz.com